The Heffern lab is a young, multidisciplinary team of researchers, seeking to solve problems at the interface of bioinorganic chemistry and hormone biology.  Stay tuned to our fun adventures in the lab's early years!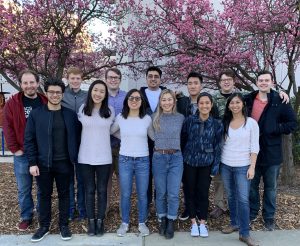 Latest news
August 15, 2019 The lab has been awarded a NIH MIRA R35 grant! The grant will provide funds for the lab for 5 years!! Thank you to the NIH NIGMS for this honor!
May 17, 2019 The Heffern lab has been highlighted in two articles by UC Davis media! Check out this highlight on the Hartwell Foundation Award and this article describing our recently accepted work in ChemBioChem!
May 9, 2019 The lab's first research article has been accepted in the journal ChemBioChem! The accepted version is available here! Congratulations to Michael, Ian, Kylie, and Jessica for this team effort on analyzing the impact of metals on the proinsulin hormone C-peptide!
April 1, 2019 Marie was selected to be  1 of 12 new Hartwell Investigators and the lab has received the Hartwell Foundation's Individual Biomedical Research Award! We thank the Hartwell Foundation for this amazing honor!
October 1, 2018 Want to know why we care so much about metal/hormone interactions? Check out our latest review article in Metallomics have introduced the term "metalloendocrinology" literature!
See more of our news and updates!